July 27
Rising country star Erin Kinsey joins 97.3 The Eagle for 'Nashville at the Nest' on July 27th at 7 pm at the Eagle's Nest Rockin' Country Bar in Chesapeake.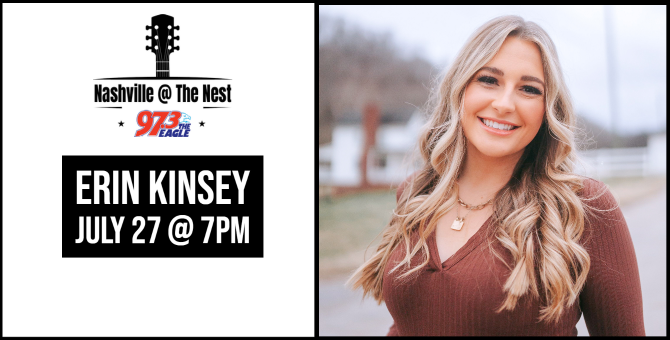 brought to you by:
---
Long before Erin Kinsey officially launched her country music career, she was already a full decade into it. This is why, at just 21, she is the epitome of a 10-year overnight success who has firmly established herself as a Nashville singer-songwriter with a long, bright future ahead of her.
After sharing video clips of her song, "Just Drive," on social media, she racked up more than 7.2 million views on TikTok.
In the past six months alone, Kinsey has released two songs, and the fan response on social media has been so staggering that record labels and publishing houses noticed her before she noticed them. With more than three million likes just on TikTok, Kinsey says, "Now I'm on the same path, just with more force behind it."
See Erin Kinsey live on July 27th.  FREE and open to all.
Venue: Eagle's Nest Rockin' Country Bar
Phone: (757) 420-9191