Final thoughts on "Cash and Carly's Selfie Scavenger Hunt" at Busch Gardens.
Let's start by recognizing how nice of a day it was to gather at the most beautiful amusement park, 29 years and running, to hang out and have some fun with some listeners. Oh, if I may, we were one teammate down, so that automatically counts as a disadvantage for my squad. But, I'm not the excuse making guy anymore and I take full responsibility for my team's loss on Saturday. However, after further investigation, it appears that Carly's team may have cheated!
I know it's not kind to assume anyone was cheating, but I was wondering how they could have scored more than my team when we were following them closely, observing their every move. I think I may have stumbled onto something worth checking out.
The goal of the contest was to go around the park and take selfies with rides, restaurants, and wine kiosks spread throughout the park. We started in England and made our way all the way until we met at Sesame Street. My team was focused and energized and we had a great strategy. Once we figured out who would be in charge of taking the selfies and posting them online, we were on a role. So much that I was surprised to see the outcome.
Take a look at what I'm talking about. Look at this selfie below. What is this a selfie of?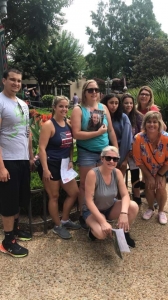 What is this? Did they receive points for this? No wonder they won! It appears that they were taking random selfies of trees and counting them as Busch Gardens landmarks. If you can tell me what it is that they are posing in front of I would gladly retract my accusation, but until then, I call foul!
Still not sure. Let me show you another photo. Take a look here.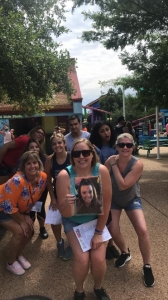 All I'm saying is that if I knew you could take random photos of trees and picnic tables in the background, we may have had a different outcome.
I'm planning on calling the local authorities to officially protest this contest. Seems to me like there was a "fix" in from the beginning.
Despite the debatable results of the contest, we all had a lot of fun hanging out at Busch Gardens. I want to say a big thanks to everyone who came out to hang with Carly and me on Saturday and we'll have to do it again real soon. Maybe we can have some kind of contest during Halloween??? That would be awesome!
Team Cash!