So I out and about killing some time before work the other day, when I stumbled into Big Lots. Which I would argue is one of the most underrated stores of all time. But that's another point for another post. As I was walking around, I noticed that they were selling Halloween decorations (which is perfectly acceptable).
But right next to all the Halloween stuff, I saw this…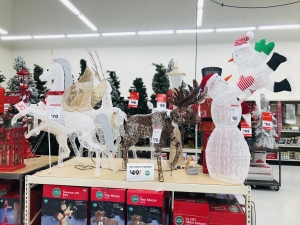 That's right, your eyes are not deceiving you, those are Christmas decorations, IN SEPTEMBER! I can't believe I even have to say this, it is not even close to being time to think about Christmas decorations. Come back and talk to me in November, and maybe we can have this conversation. But no time sooner.
Do you agree?
– Big Red