---
Day 1 of the CMAs and we had a blast!
Cash and Annaliese broadcast their show live from Nashville ahead of the 55th Annual CMA Awards with all the stars dropping by to chat!

We stared the day chatting with Russell Dickerson and Priscilla Block. Check out those interviews here and here.
Next we got to spend some time with David Nail.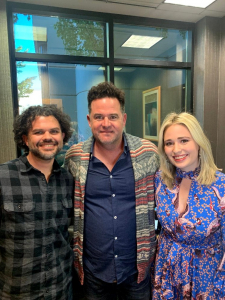 David went public with his depression battle in 2014, after achieving success with hits like "Let it Rain," "Red Light" and "Whatever She's Got."
We talked to him about his new music and how he found the courage to speak out about mental health and the moment he realized that he needed to seek help.
Take a listen:
We talked with rising country star Nate Barnes about working at a power plant and blueberry farm in the small town of South Haven, Michigan.



He told us making the move to Nashville to pursue his dreams, learning 'TokTik' and how his dog is becoming a city dog in Nashville.
Listen below:
Laci Kaye Booth from the 2019 season of American Idol stopped by as well.

We found out she auditioned for Idol three times but she was almost on another reality show first. Find out what happened with that ill-fated audition: