---
Morgan Wallen and Carrie Underwood fans aren't pleased after both artists were shut out at the 2023 CMA Awards.
Once again, @MorganWallen is getting absolutely robbed at @CountryMusic awards.#CMAawards #MorganWallen pic.twitter.com/rZxFx0DrjI

— Ryan Trotti (@RyanTrotti) November 9, 2023
I don't care how the @CountryMusic EOTY turns out. As a fan of @carrieunderwood who has busted her hump, gave them 12+ years of high ratings hosting, was robbed consistently for outstanding years, an award doesn't solidify the truth! A trophy doesn't always tell a story 🤷🏼‍♀️ pic.twitter.com/yEdnOuYYt1

— Debbie ballentine (@Debbieballentin) November 8, 2023
I have absolutely nothing against Lainey. This is a huge deal for her & I cannot even fathom how great this is for her.

But year after year, @CountryMusic just disrespects @carrieunderwood . A freaking queen with over 85 billion streams. Carrie is THE entertainer of a LIFETIME.…

— Anna Livi (@AnnaLivi97) November 9, 2023
When you look at those stats, is easy to see why fans are upset. But Lainey had a huge year as well!
"Watermelon Moonshine" hit No. 1 on Billboard's Country Airplay chart, making her the first solo female artist in two years to have a song reach No. 1 on that chart. The last solo female to top the Billboard Country airplay was Wilson herself with "Things a Man Oughta Know" in September 2021, according to Music Row.
She also achieved multiple firsts this year, including being the first female artist in over a decade to have multiple songs charting in the Top 10.
.@laineywilson is the only artist with multiple songs charting in the Top 10 of US Country Radio (Mediabase) this week.

#7. Heart Like A Truck
#9. Wait In The Truck

She becomes the first female artist in over a decade to achieve this feat. pic.twitter.com/r2ZP8g4iTZ

— U.S. Radio Updater (@USRadioUpdater) January 29, 2023
The singer branched out into acting, starring on the popular series Yellowstone, and inked endorsement deals for Stella Rosa, Wrangler Jeans, and Dodge.
Wilson's boyfriend, Devlin Hodges, took to X (formerly known as Twitter) to defend her win. "Can't express how hard this girl works and how much she deserves this. Yeah she open for some people but I promise you.. anyone who sees her leaves there like DAMN what a show! She is a performer, a entertainer and I'm glad to call her my bestfriend."
While Carrie wasn't in attendance this year, Morgan was at the show and addressed the backlash on his Instagram story writing, "Walked in tonight a winner, didn't walk out no different."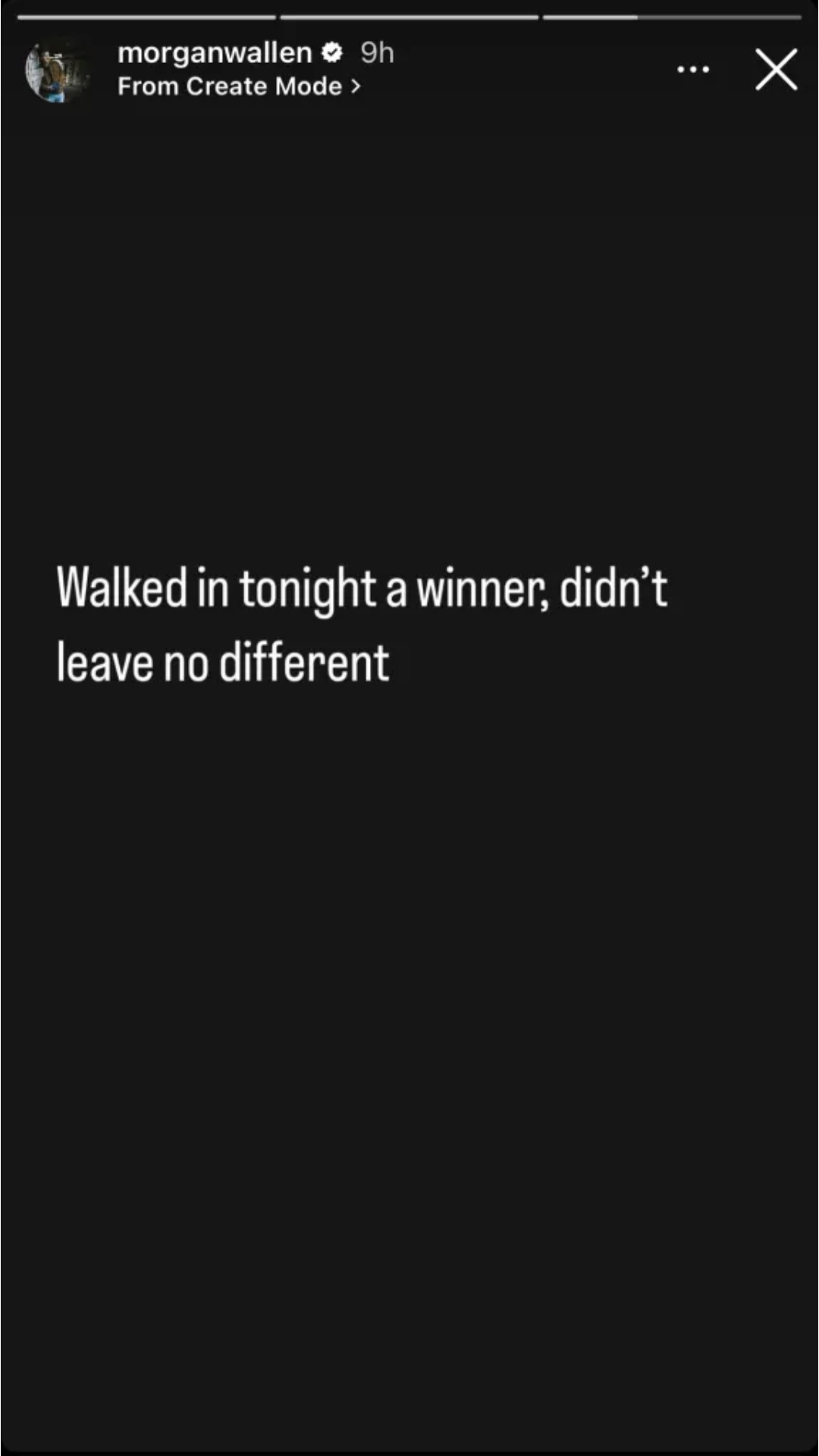 According to the CMA's The Entertainer of the Year Awardis for the act displaying the greatest competence in all aspects of the entertainment field. Voters should give consideration not only to recorded performance, but also to the in-person performance, public acceptance, leadership, and overall contribution to Country Music.
So even though she was the opener for another nominee, Wilson still fits the criteria for Entertainer of the Year.
Plus, just listen to this acceptance speech.