Karen is a Hampton Roads native, born and raised in Newport News and now lives in Norfolk. She has four daughters who are her best friends. Karen has been on the air on the Eagle for over 25 years and very passionate about radio and connecting with her listeners.  
Karen is also very passionate about her charitable causes.  She is active with the American Cancer Society's "Making Strides Against Breast Cancer" campaign in memory of her sister Ginni, who passed away peacefully of breast cancer in 2005.  She is also very active with St. Jude Children's Hospital's endeavor to end childhood cancer.  
Karen is an author who has written two books to benefit various charities.  Amazing Trace, A Sister's Journal follows the story of her sister's battle with breast cancer.  It is available at all online booksellers.  
Karen recently began traveling internationally and crossing things off her bucket list, proving to herself that if you want something bad enough, go for it!  She has taken several trips on a very VERY small budget and shares her experiences on "Travelin' With Karen."  
Her favorite quote of all time is from Maya Angelou:  "I've learned that people will forget what you said, people will forget what you did, but people will never forget how you made them feel."  
This is something I wrote for my grandfather and presented to him two years before he went to his heavenly home. This weekend, I honor him and all of the wonderful fathers…whether they be biological fathers, adopted fathers, stepfathers….I want to thank you all for being the men we look up to. For being…DADDY.

For My Father

By Karen West

When I was a little girl, I met a soldier who changed my life forever. This man fell in love with a woman 14 years older than himself. He had never been married, never had any children of his own. This woman had grown children and several grandchildren, but it didn't matter. She is who he wanted to spend the rest of his life with. She, on the other hand, was not interested in settling down with anyone. But he remained persistent…for three years. He loved her children and her grandchildren as if they were his own. And for her, he would have done anything.

Three years later, he received transfer orders to Arizona. Before he left, he presented the woman with a diamond ring and asked her to be his wife. She gave no answer. A few days later, he made what had to be the longest drive of his life to Fort Huachuca.

She loved him, there was no doubt. Her reasons for dragging her feet were many, but at the urging of her daughter and grandchildren, she phoned him and accepted his proposal.

Two years later, her daughter died…leaving 4 children behind. Several family members made plans for the children, but none of those plans involved keeping them together. The argument escalated, and the soldier could take no more. "There's no splitting these children up! I want them ALL."

And that's where they stayed…and grew up happily.

My grandfather Henry, though not biologically, IS my father. The man who loved us, raised us, and continues to make sacrifices for the children he worships. I still giggle at the nicknames he gave us when we were younger. "Neater", "Gravel", "Panther", and "Journey"…the names he still uses to this day. We all got our love of football, baseball and basketball by watching them with him while eating the plate sized steaks he grilled for each one of us. Sunday mornings were pancake days. He was up at the crack of dawn making sure we had a hot breakfast…giving our grandmother the break she deserved. We traveled the country. Whenever he had a business related trip, he loaded the car and took us all. Plus the two large family dogs!

Whenever we need help, he is the first one there, always. Ginni's last day on earth, he helped me get her to the hospital and he stayed beside the both of us…crying right along with me. My heart broke because we were losing Ginni…but my heart was crushed watching this man, who was always our rock, break down as well. The two of us made the hardest decision of our lives that day…to let her go. I don't know what I would have done had he not been there with me. I don't know what I would have done if he were not in our lives. I just CANNOT imagine life without him.

To my father, Henry: The only way I can repay you for all you are, and have done for me is to be the compassionate and loving girl you raised…so when people see me, they see you.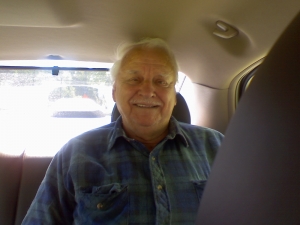 I love you so much.