There are so many ways to ring in the New Year, whether your in the freezing cold of Time Square in New York City, or at the local taphouse enjoying a relaxing evening with friends, or staying at home with your significant other ringing in the New Year with your someone special. If you are the latter well there will be plenty of ways to watch others ring in the New Year all around the Globe.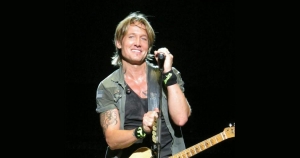 Keith Urban is set to ring in the New Year in Nashville on Tuesday night, he'll be joined by Rock and Roll legend Stevie Nicks. The two are set to headline the concert which will also include acts: Ashley McBryde, Jason Isbell, The Struts, Amanda Shires, Bren Joy, Kalie Shorr, DJ Dave Audé and the Fisk Jubilee Singers. And as per usual the event will end with counting down to the new year and some spectacular fireworks.
"To have someone of the caliber and stature of Stevie Nicks join Keith Urban on stage is an incredible way to cap off the year," Nashville Mayor John Cooper said in a statement. "Nashville has worked hard to grow New Year's Eve into a world-class event that brings global attention and economic impact to the city. Considering the evening's diverse lineup, national broadcast coverage, and the addition of a Rock and Roll Hall of Fame artist to the program, it's clear that these efforts are working."
The concert, held at Bicentennial Capitol Mall State Park, is free and will open to the public at 4PM. If you can't be in Nashville, you can catch portions of the show aired on both CNN and NBC.
What are your New Year plans?
– Big Red